Understanding the power of video analytics in managing retail loss prevention
The retail landscape has undergone a significant transformation in recent years.
Not only have retailers had to deal with a change in customer behaviours, the introduction of automation and the evolvement of online shopping, but they are continuously faced with the increase in crime trends and shoplifting.
The rise of shoplifting
The cost of living rises is driving an increase in shoplifting. According to research by the BBC, shoplifting offences have returned to pre-pandemic levels as a result of the hike of cost of living.
It's not only shoplifters that retailers are battling with. Anti-social behaviour is also on the rise, with vulnerable retail staff risking their safety and dealing with theft on a regular basis.
Why is loss prevention an issue in retail?
A recent report by the British Retail Consortium has highlighted the alarming increase in criminal activities within retail establishments. One a prominent UK retailer, has reported a surge in criminal gangs, leading to incidents of staff being physically abused or threatened with weapons. This unsettling trend has created a frightening atmosphere for retail employees.
Additionally, the number of shoplifting cases has risen drastically, from 2.9 million in 2017/18 to 7.9 million in 2021/22, according to the British Retail Consortium. Alongside this surge, the value of thefts has risen from £663 million to £953 million, signifying the financial implications retailers face.
Theft and unexplained missing inventory can quickly absorb profit and have a negative impact on a business, so it's important that retailers are armed with efficient resources and solutions to combat them.
What does loss prevention mean in retail?
If you're a business in the retail sector and don't have a strategy to manage theft and loss inventory, then it's time to start thinking about how you can protect your profits through retail loss prevention.
So, what can you do to prevent theft and protect your profit margins? There are different methods you can implement to tighten your security, protect your staff and manage loss prevention effectively.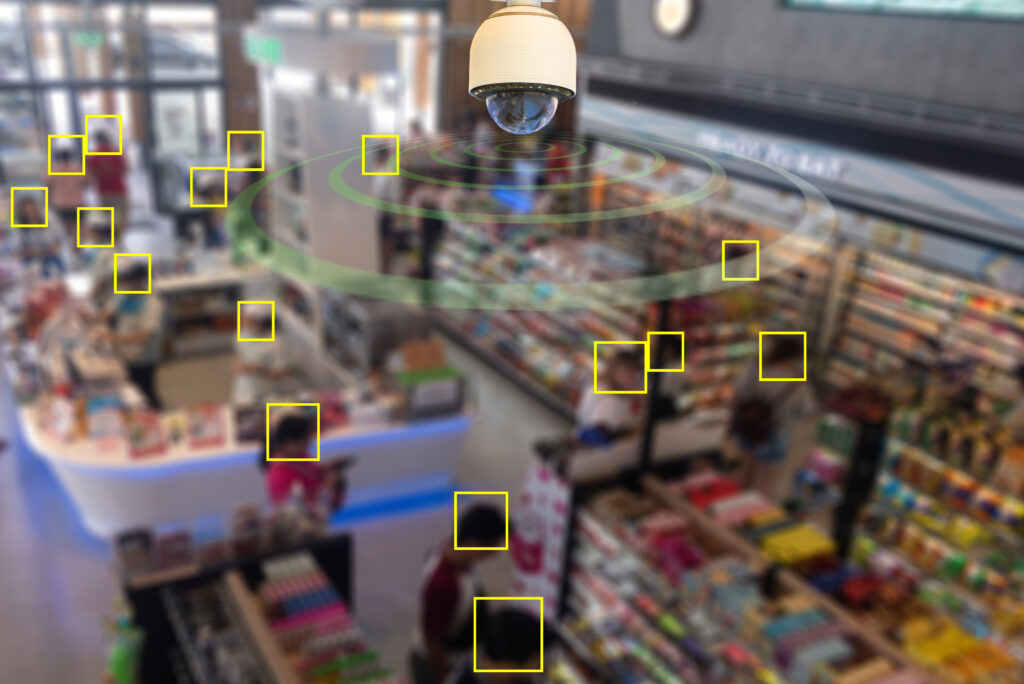 Add shoplifting prevention at checkouts
Self-checkout systems are a convenient way for customers to self-serve and for retailers to minimise the need for supervisors on the shop floor. However, they come with their own set of challenges. Automation and fewer staff members on the shop floor have made it easier for shoplifters to go unnoticed, increasing the likelihood of theft.
Video analytics software, can monitor self-checkout areas and automatically flag suspicious behaviour. This helps prevent shoplifting attempts and reduces the financial burden on retailers.
---
Detect suspicious activity
It can be hard for retailers to manage every customer that comes through the door, especially if they don't have the resource available. Utilising retail security systems can help detect abnormal behaviour, such as loitering around high-valuable items or shelf clearing.
---
Enhance staff safety
With the rise in criminal trends and theft, so is the demand for better safety precautions for retail staff. They are the ones that find themselves vulnerable to criminal acts and face verbal and physical abuse. Video analytics software can help protect staff and customers by providing visual evidence of criminal activities to identify and apprehend repeat offenders.
---
Invest in retail loss prevention technology
If you are looking to enhance the effectiveness of your retail security systems, then exploring the benefits of video analytics solutions is worthwhile. Designed to tackle the increasing challenges of loss prevention and staff safety, investing in retail loss prevention technology helps you to reduce risk of theft, protect your customers and maintain your profit margins.
Providing retail loss prevention solutions
At VCA Technology, we offer solutions for managing retail loss prevention. Our cutting-edge retail security systems can utilise your existing security cameras to detect abnormal customer behaviour and early warnings of potential theft. We give you the data and analytics to manage loss prevention and efficiently optimise your security and store to prevent theft from happening.
Contact us today for more information about how our retail loss prevention solutions. We can talk you through our retail solutions and how we can help you create a better, safer retail environment.